Tom Heinz
, Executive Director
Tom founded EBI in 1994. As a child of a person with a disability, Tom learned at an early age that your physical limitations do not define your value as a person. This continues to be his personal philosophy, as well as the philosophy of EBI. He will never forget seeing the first people EBI served move into their new homes. Tom is constantly inspired by the people EBI serves, who overcome so many barriers to be able to live on their own or to have a job. Tom has a Master's in Rehabilitation Administration from University of San Francisco. He was the first Chairperson of the California Supported Living Network 1996-1998, and was a co-founder of the Housing Consortium of the East Bay and of HOUSE, Inc. In 2005 he won The Bill Rosenberg Memorial Award from Cal-TASH and in 2014 he won the Bernie Graf Excellence in Service Award. Outside of work, Tom enjoys listening to American roots music and playing baseball with his three boys.
Tamy Ratto
, Vice President of Operations
Tamy has been with EBI since 1997, when she was hired as the first Independent Living Skills Instructor. She appreciates the connections with clients and families, who demonstrate what it is to be strong and the importance of acceptance. Tamy has dedicated herself to EBI because she is committed to the mission of empowering others to live lives that are valued and purposeful. Tamy also has a special expertise in assisting people to secure affordable housing and public benefits (SSI, SSDI, MediCal and MediCare). In 2009, Tamy received the Diane Lipton Memorial Award for Outstanding Advocacy. In her free time, Tamy loves spending time with her family and puppies.
Serom Sanftner
, Vice President of Program Services
After doing a year of mission work in East Asia, Serom wanted to jump into work that was engaging and meaningful. EBI was the perfect place for that. Initially hired as an ILS Instructor in 2010, Serom has held a number of positions at EBI. After completing her Master's of Social Work, Serom gladly joined the TCCM Team in June of 2015. Throughout her time with EBI, Serom has loved seeing people grow and change, and appreciates how her clients also help her to grow as well. Serom values the intimate role EBI gets to play in people's lives and helping them to be a valued and integral member of their community. Outside of EBI Serom enjoys spending time with her husband and son, family and friends, traveling, music, and serving at her church.
Joel "Curtis" John
, Director of Employment Services
I began working at EBI in 2021 coming in as an assistant Director of Supported Employment, before taking on the role as Director in January of 2022. Previously I worked in supported employment for 7 years in Maryland/Washington Dc as well as part-time community engagement support. Within my time in supported employment I started off as a job coach with Project SEARCH then became the site supervisor at Project SEARCH Smithsonian while also working as a job developer in Washington DC. My goal and drive in this profession is to break down the barriers of employment persons with disabilities face and also work collaboratively supporting those we serve to reach their goals. I have had the privilege speaking at the APSE conference and Maryland DOR conference, teaching on how assistive technology creates independence in both the workplace and community. I have also supported 2 persons to present at a conference with the DOJ to discuss changes to Ability One contracts and the importance of competitive integrated employment. I enjoy seeing those we serve achieve their goals and also make real impacts within the working community and begin to change the culture in such a positive way. Being a part of EBI's person centered approach has been rewarding and invigorating to see the impact it has made in people's lives. Outside of EBI I enjoy spending time with my wife and son as well as playing soccer and basketball.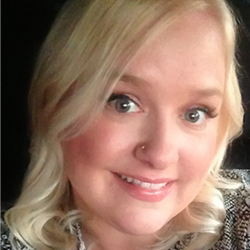 Samantha Covey
, Director of Independent Living Services
Samantha began working at EBI as an Independent Living Skills Instructor in 2004, after working in a group home setting for adults with developmental disabilities. She worked in several managerial positions within the Independent Living Skills department, including Coordinator and Assistant Director. Since January 2014, she has served as Director of Independent Living Services. Samantha is dedicated to supporting adults with disabilities to lead independent, healthy, happy, and productive lives.  One area of particular importance to Samantha is working closely with family members and friends of people served by EBI, as she recognizes the value of natural supports within a person's life. It is Samantha's philosophy that adults with disabilities lead lives of their choosing with dignity and as much independence as possible. Samantha feels fortunate that years of employment at East Bay Innovations have allowed her an extensive amount of professional development as well as deep personal growth. Samantha lives locally and enjoys spending time with family and friends.
Erin Hanley
, Director of Supported Living Services
Erin graduated from UC Berkeley in 2009, and started her career with EBI in 2010 as a Community Living Assistant in Supported Living Services. Erin has a long history of community service, with volunteer experience in convalescent homes, her local V.A., and tutoring children of low-income families. Her passion for the field of social services is apparent in her work, and she advanced through different positions within the agency before coming to her current role as Director of Supported Living. Erin loves to see the individuals she serves engaged with their community and with each other, as well as the impact of our services on our clients families. She truly believes in EBI's person-centered approach, and she feels inspired by her co-workers on a daily basis. While not at work, Erin enjoys cooking, yoga, hiking, and gardening with her husband, her two young children, and her crazy Pomeranian.
Rosa DeWaard
, Director of Community Day Supports
Rosa began working for EBI as a Community Living Assistant in Supported Living Services and Community Day Supports in 2013. Since then, she has worked as the Lead Coordinator for CDS and has been the Director of CDS since early 2018. Rosa has a B.A. in Psychology from UC Santa Cruz, and after graduating joined AmeriCorps and worked as a volunteer & program coordinator at the Santa Cruz Volunteer Center where she helped connect youth to meaningful volunteer opportunities. In Rosa's five years at EBI, she has built strong relationships with clients and their families and loves seeing clients thrive and grow in the program and connect with their community. Outside of work, Rosa enjoys singing and playing music, yoga, and hiking.
Christine Grabowski
, Co-Director of ILS/Private Pay Case Management
Christine started out with EBI as an Independent Living Skills Instructor in 2008, after 13 years away from the workforce to be home with her children. When she decided it was time to return to work, Christine was looking not just for a job, but for a place where she could serve. She started working part-time as an Instructor in Independent Living Services, and over the course of three years, worked her way through several positions, including Specialist, Coordinator, Assistant Director of ILS and Director of SLS. In November of 2017, she stepped into a new role providing Case Management/Advocacy supports. Christine believes that trust and respect are the bases for all relationships, and she is committed to EBI's philosophy that all supports should be centered around the individual's needs and lifestyle. It is the philosophy and practice of supporting people with dignity and pride that has led Christine to want to continue her own growth as a person at EBI. In her spare time, Christine loves to cook and bake, spend time with family and friends, and discover new, wonderful places to eat and hike in the Bay Area.
Jen Swiatlowski
, Director of Administration
Following years of experience serving developmentally disabled children in special education programs, Jen began her journey at EBI as an Independent Living Instructor in 2015. Since then, Jen has worked as an Independent Living Specialist, Coordinator, EBI's Payroll and Benefits HR Manager, and now Director of Administration. In this role, Jen works alongside the Executive Director and Director of Operations, ensuring that the inner workings of the organization are functioning smoothly. She enjoys incorporating her creativity into new initiatives at EBI, especially as the chair of the Staff Appreciation Committee. Outside of work, you can catch Jen planning weddings and events, spending time with friends and family, and enjoying all of her favorite Disney movies.
LeeAnne Goldsmith
, Admin Director of IHSS & Benefits
After studying Recreational Therapy and working as a Recreational Therapist at a psychiatric unit for seniors, LeeAnne searched for meaningful work in the East Bay Area. Her journey at EBI began in 2002, initially working as an Independent Living Instructor and then as an Independent Living Coordinator. Having relocated to Kentucky, LeeAnne stayed on with EBI assisting the agency with building databases and special projects. Now, she manages the ins and outs of EBI's payroll, employee benefits, and IHSS. LeeAnne's knowledge and coordination of administrative functions at EBI has kept the agency efficient and organized. In her free time, LeeAnne enjoys working on projects for her home, tending to her chickens, kayaking, and spending time with family and friends.
Bea Saki
, Co-Director of Transitional Care/Case Management (TCCM)
Bea first joined EBI in October 2016, as a TCCM Case Manager. Bea returned to EBI in March 2021 as the Program Administrator of TCCM, after working within the HCBA Waiver and PACE Programs at the Center for Elders' Independence (CEI). Bea has served in several positions within the TCCM department and since June 2022, as Co-Director of TCCM. Bea has been able to approach quality of service from her own experience in case management, as well as her practical administrative skill, to effectively meet the needs of the people EBI serves. Bea's passion is to build strong community relationships for effective cross collaboration to promote the health and safety of EBI clients using a team approach. While not working or studying for her MPH, Bea is repotting her indoor plants or adding new ones to her collection. You can also find Bea at the nearest Trader Joe's buying all the newest seasonal snacks.